The bathroom of a private home in Gothenburg, Sweden, was remodelled with serene grey tones and rugged oversized tiles.
The architect who lives in this private home wanted to renovate the bathroom to give it a modern look and clean lines. The cool grey tones of the large and rough wall tiles are matched by small grey tiles on the floor, creating a clean, harmonious overall look.
The clear glass wall separating the shower area creates a contrast and gives an airy feel to the space, which is otherwise dominated by grey stone. The large Vieser Square design cover on the floor is tiled with the same small tiles that surround the drain. The large drain cover is sturdy and stable to stand on and enables a beautiful and coherent floor surface throughout the bathroom. The harmonious surface and the absence of a traditional small drain grate gives the space an elegant and distinctive look.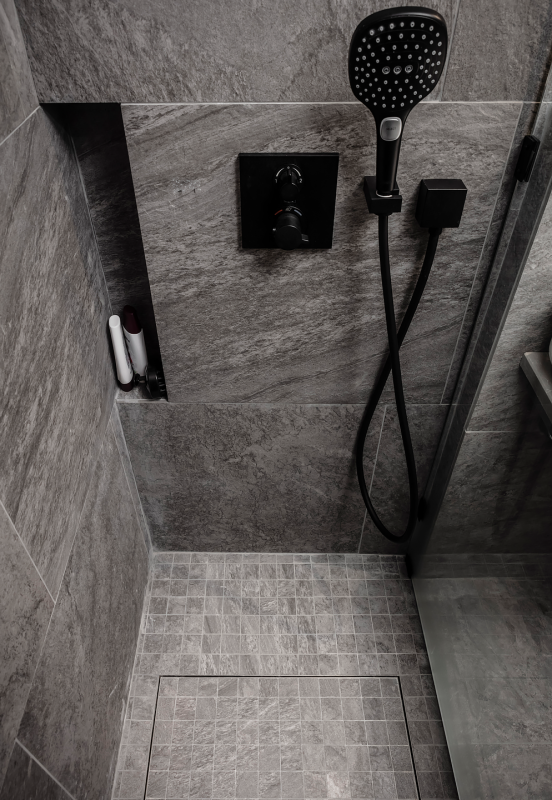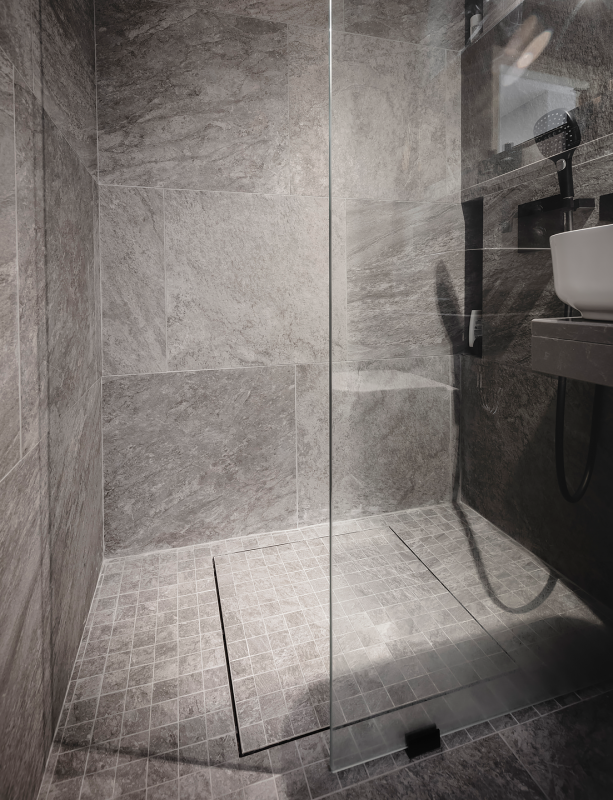 The tiled drain cover is part of the Vieser Square range of large design covers. The large size of the drain cover, 60 cm x 60 cm, was designed to support the weight of a person. At the same time, it is an impressive visual counterpart to the showerhead. The drain cover can be tiled according to the customer's wishes, from many small tiles to a single oversized tile. Alternatively, the drain cover can be filled with a material suitable for use in wet spaces, for instance, microcement or resin.
The same size Vieser Square design drain cover can also be used with a wood material suitable for use in wet rooms.
Vieser Square design covers are compatible with the efficient and reliable Vieser One floor drains. Installation is quick and easy, and day-to-day use is a breeze – the drains have very long cleaning intervals.
Read more about how easy it is to clean Vieser drains.
Interested? You can see our drain solutions and learn more about them in our showrooms.